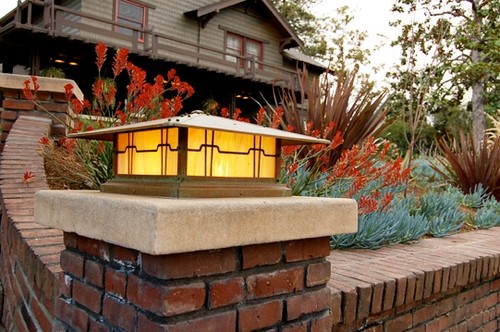 Whether you've put your house on the market to sell or you're just expecting guests for the holidays, here's some easy ways to add curb appeal to your home. If you've already got Halloween decorations up, you may want to wait until they come down to start the projects, but many you can get started on immediately. Or, you can use these next few weeks before the holiday to plan your approach.
Front Door: It sounds so simple, but have you looked at your front door recently? You see it everyday, and may not notice scuff marks, dirty hardware or chipped paint. Maybe it needs to be replaced entirely? In any case, the front door is extremely important when it comes to curb appeal for your home, so spruce it up. Also, your front door and its immediate area should be a reflection of what's inside, so make sure you add some details, like a wreath, a plant or a decorative feature, that reflects your home interior's style.
Numbers and Lights: As you're inspecting your front door, look a little wider. Do your house numbers match the door hardware? Are the light fixtures dirty, dated or broken? Should you switch to wall mounted lights from the overhead fixture? A trip to the hardware store should provide you with a selection of complementary hardware and fixtures to give your home a welcoming feel. If you want something more specialized, and special, look for companies like Old California Lantern Company based right here in Orange County for house numbers, lighting and even mailboxes. And don't forget a clean doormat!
Outdoor lighting: The nights are starting to draw in, and Daylight Savings Time will end on November 3rd, so it's a great time to make sure there's a clear and well-lighted path for you, your family and your holiday guests. Fixtures don't just add beauty and style to your landscaping, they provide safety and security by lighting pathways. In California, we're lucky enough to be the perfect candidates for solar-powered lighting, which means no wiring required.
Add Plants: Re-landscaping can be expensive, and you don't necessarily want to spend that when you're either selling the house or making it more attractive for the season. That's why the experts recommend putting together a container garden, which can be a fun weekend project with a single trip to the local nursery or home improvement store. New plastic containers look like stone or terra cotta and cost much less than the real thing. Plus, many nurseries and home improvement stores have containers already filled with beautifully arranged plants, especially around the holidays. Don't be afraid to stagger the pots down your porch or deck stairs, or use benches or low tables to create a dynamic arrangement of your new potted plants. Don't forget—many herbs you use in the kitchen are beautiful plants, and can look great in your container garden while also helping you stuff the Thanksgiving turkey—like sage or rosemary.
Mailbox Update: This one can be a easy trick that makes a big impact, especially if you live in one of Southern California's housing tracts in the suburbs. If your mailbox looks just like everyone else's, give it a makeover! Choose one that not only harmonizes with your home, but also reflects your personality. (Although, if you're trying to sell your home, the mailbox in the shape of a spaniel or dolphin may not be appropriate.) Don't be afraid to accent it with decorative stones, statues or plants for a real statement.
Have a wonderful holiday season, and a safe one! If you need us, we're always here, in the same spot in Tustin on Newport Avenue. Stop on by or call us on (714) 838-1911.